AI, the future of life on Earth, and Google Ads automation
Feb 20, 2019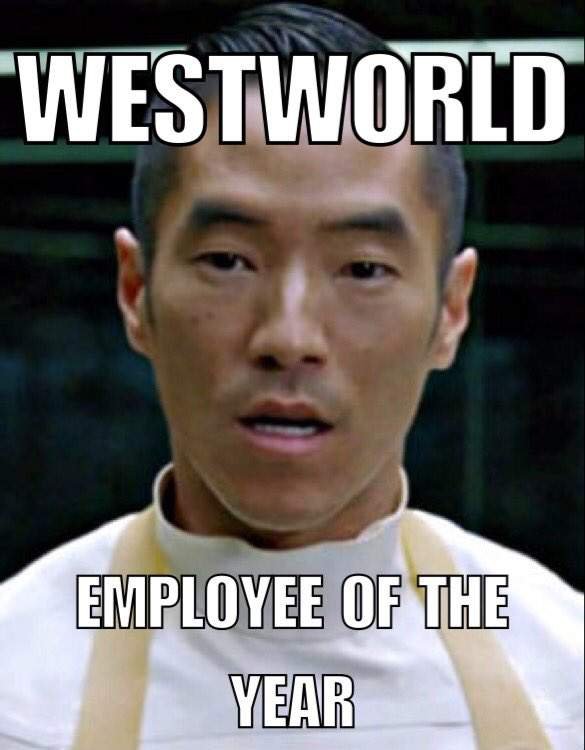 The purpose of this article to show how AI will wipe out humanity in the end, but show how we can leverage Google's machine learning tools to help our Google Ads campaigns perform better.
tl;dr
---
AI is already making humanity it's bitch
(so we might as well make the best of it, shall we?)
Wow! It's almost 2020. Which feels like science fiction in itself.
AI is humanity's future, we all know that.
While the main purpose of AI ostensibly is to make Google & Amazon richer (and life better for all), one unintended design consequence is that it makes our species feel stupid in comparison.
Sure for now, early AI has some interesting and charming applications, like Google's Quick draw which uses neural networks to identify doodles. So if you have a few minutes to kill, go there and feed the beast.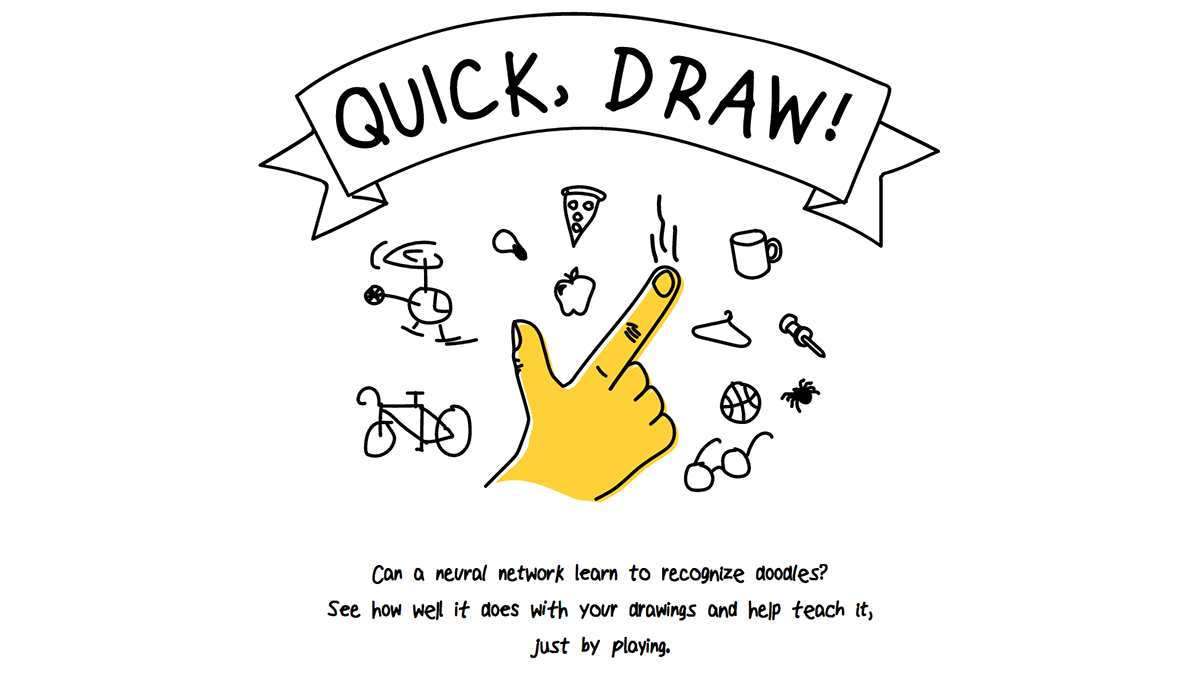 Look at cute Deepmind teaching itself to walk from scratch!
Despite AI being in its relative infancy and just starting to do stuff that we humans take for granted (like not walking like a complete idiot), AI has already been making obliterating humans in certain fields of endeavor.
Today, Google's Alpha Zero can teach itself chess from scratch and obliterate everything in its' path.
After chess, it started spanking Go world champions.
Look at this poor schlub…you don't need to watch the video to know that he's doomed, and he knows it.
To add insult to injury
What makes it all worse, is it does this stuff after spending 10 minutes teaching itself from scratch how to do it.
It's clear that even in the early go of AI humanity has lost…
It's just a matter of time before AI can cook better than our best chefs, compose better than our best musicians, and design cars better than the best designers.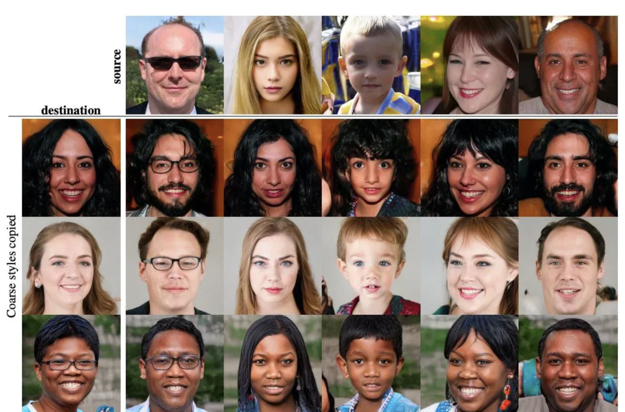 AI theoreticians say we're about 30 years off from "the singularity," the moment when a AI will be smarter than all combined human knowledge.
Behold, the singularity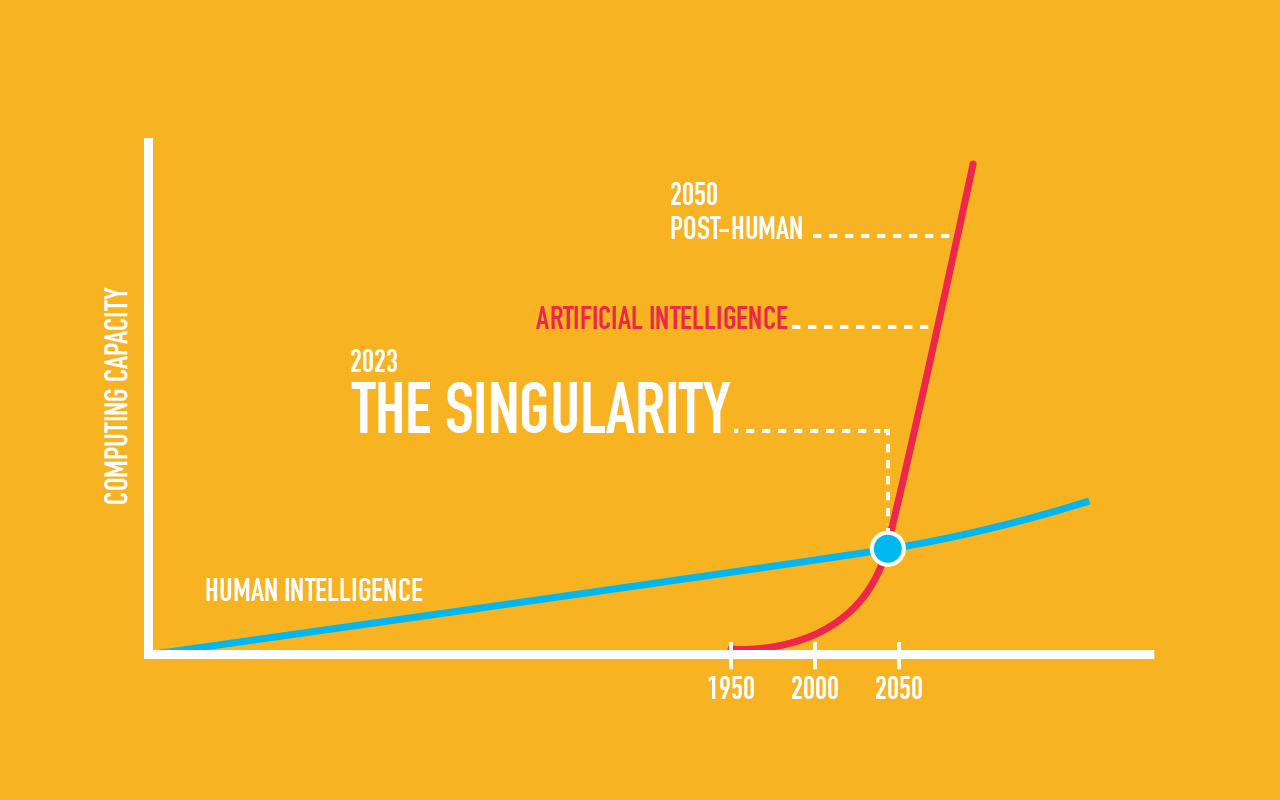 What does that say when AI is already beating us in so many things, and it's no where near it's potential.
Yes, it will be able to solve previously unsolvable problems. Or problems that we didn't even know we had.
And maybe in the future AI will make you feel better when it beats you or taking your job by saying, "nice game," or "so sorry bout that" but for now it just crushes us with ruthless precision while it imagines other possibilities our puny human brains will never even comprehend.
Humanity's future in a Powerpoint slide
I drew up this handy powerpoint slide so you can print it out and hang it up over your bedroom dresser: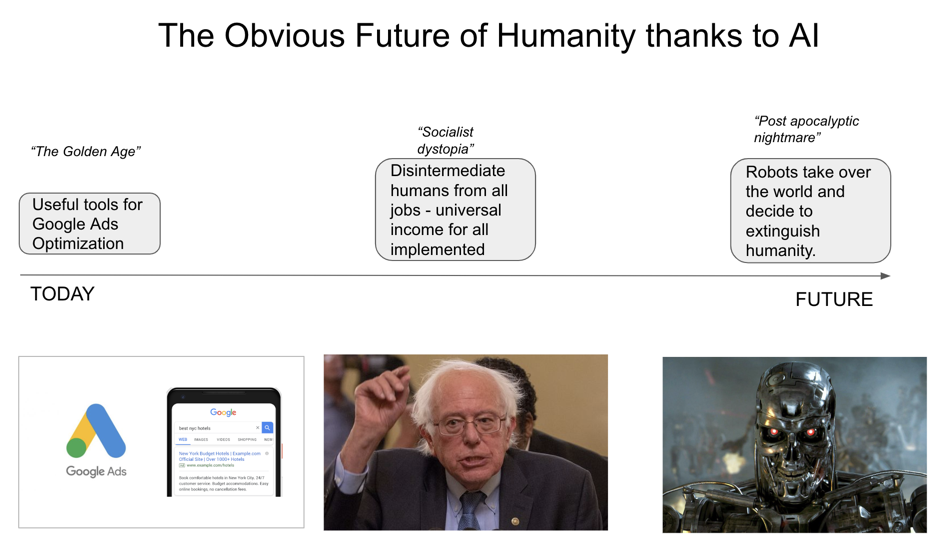 I could be off on the dates a bit, but this is pretty much how it's going to go down from here:
Phase 1. Golden age of AI (2019-2035)
As is clear to anyone thinking clearly, right now is the golden age of AI - particularly, the technology is still under our control (read: we can hit the off switch if and when things go wrong).
Also, aside from beating humans at games and creating creepy looking robot dogs, there are lots of benefits for humans that we can employ to make us look smarter than our competition or maybe even in the near future even give us interesting companionship options.
Phase 2. Bernie Sanders style socialist dystopia (2035-2045)
Next, as AI continues to expand to new fields, it will take over more and more jobs, making humans irrelevant. With nobody making money, except the people who control the companies that run AI, we'll all just have to sit around watching TV and eating nachos (that the robot AI nacho makrers make).
At that point in our evolution, either society will break down, or we'll see some Bernie Sanders style universal income for all that billionaires like Zuckerburg and Musk seem to also see as our future.
So we can all sit around being couch potatoes, disincentivized to do actual work, and using our days in the pursuit of leisure and hanging out with our robotic girlfriends.
I'm not sure when this phase will start, or how it will last for, but my guess is we'll be there in about 10-15 years.
Phase 3. The end times (2045-2048)
At this point, your street will look like Mad Max, Terminator, & The Walking Dead all in one.
The final inevitable phase will begin with the AI entities reach sentience. At that point, they'll realize that actually all of humanity is annoying and pointless and likely hunt us down and harvest our bodies as power cells.
Since they'll be too smart for us, the majority of humanity will be wiped out, except for the humans that learned to merge their sentience with AI to become a cybernetic organism. And for those of us who worked hard to make money at Google Ads so we could build survivalist shelters near the core of the Earth to keep out of the way.
Ultimately, however, humanity will lose, because the AI bots will be too strong and ruthless, and unless humanity has access to time travel to reverse the course of human history (like Back to the Future or Terminator), that will be the end of it.
A few thousand years of humanity…a good run no doubt.
Also at some point AI overlords will unleash a horrible virus that will turn humans who die into undead zombies.
Depressing? No! This all presents great opportunities for Google Ads marketers today.
Automated bidding strategies
The inevitable untimely demise of humanity notwithstanding, AI today provides some great opportunities for Google Ads marketers.
As of 2019, Google has given us some great machine learning tools to automate our Google Ads while getting better results.
The main machine learning/ AI tools we can leverage in our Google Ads account include:
Automated bidding
Automated creative
Both of which use Google's machine learning to match the right creative and bid for each individual person for each individual search auction for each of the 3.6 billion searches conducted on Google each day.
This helps us get better results while doing less manual work, making our campaigns more scalable.
Each of these 3.6 billion daily searches is a real-time auction, and Google advertisers are bidding against each other to show up to the right person, at the right time, with the right message.
Obviously as with all things search, showing up top is best, since that gets the most of the eyeballs and clicks.
In old style real life auctions, the highest bid is the winner.
But with Google, you need more than just a good bid. You need a good ad rank, which is a value that's a function of your bid, your ad quality, searcher signals, landing page quality, expected clickthrough rates, and expected benefit of ad extensions, among other factors.
This is all dynamically calculated on the fly each time your ad is eligible to appear.
Bid still remains an important factor in your ad rank & thus showing up for searches.
Back in the day manually setting the bid was the way to go. You still have the option to do this, through manual CPC bidding. In this bid strategy you set max the bid you'd be willing to pay. You may pay this amount, or a lower amount if in fact you could win the auction for less.
While this gives you control, in my opinion there's no reason to be using manual strategies anymore on already established accounts with data.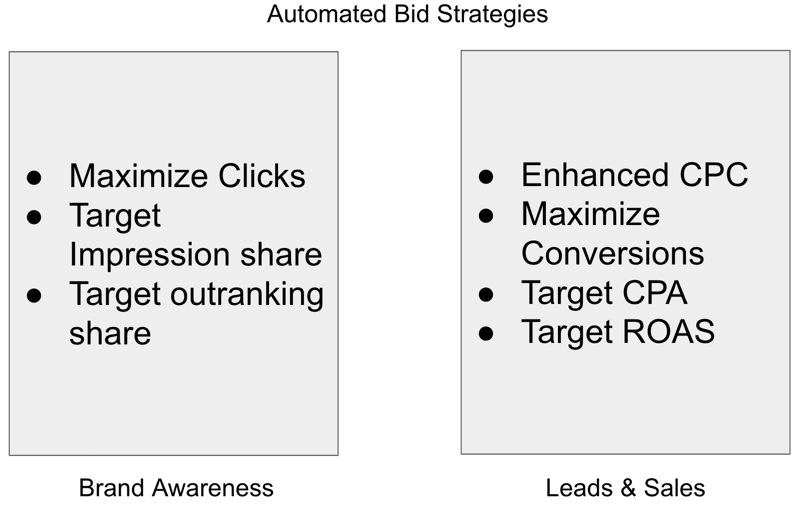 Smart bidding uses machine learning and millions of signals at auction time to figure out the right bid for the right searcher for each search.
It's going to work well for big and small advertisers, and let you scale your campaigns more than you could by using a manual bidding strategy.
Additionally, for each search auction it lets you go beyond manual bid adjustments (bidding more based on device or if they're on your remarketing list) based on automated bidding signals. Here are some of the more important ones:
| Automated bid adjustment | Description |
| --- | --- |
| Device | Google will optimize bids for Target CPA or ROAS based on whether someone is on mobile or desktop |
| Physical location | Google will optimize bids based on the location the searcher is in |
| Location intent | Google will optimize if it thinks the searcher is researching a location, such as a travel destination |
| Time of day | Google will optimize based on your business and day of week/ time of day. |
| Remarketing | Google will optimize based on which remarketing list they're on |
| Ad characteristics | Google will optimize bids based on which creative message is being shown to the searcher |
| Interface language | Google will optimize based on the searchers language preferences |
| Browser/ OS | Google will optimize based on browser or OS, if it knows people from a certain browser or OS for your business are more likely to convert |
| Demographics | Google will adjust bids based on age, gender, as well as affinity & in market audiences |
| Search query | Two similar searches may have different bid adjustments based on the likelihood the search is likely to convert |
| Search partner site | If Google thinks the search partner is more relevant, it will automatically increase the bid |
How to choose an automated bid strategy
I recommend you select a smart bidding strategy based on your particular business goal.
Google looks at innumerable signals that vary from auction to auction, so for most this is your best route.
What you need to do is to align what you're trying to do to the right strategy, point it in the right direction, and make sure you're staying on track.
| If | Use this strategy | What it does |
| --- | --- | --- |
| Your competitor stole your lunch money and you want them to pay | Target outranking share | Automatically adjusts bids to stay ahead of a particular competitor. I never use this personally, but if I had a grudge against a particular brand, I would. Also, I hear if two competitors use this strategy against each other the Internet will implode upon itself. |
| Branding is more important to you than conversions | Target impression share or Maximize clicks | Impression share is the percentage of all available ad inventory where you can show up. So target impression share tries to get you to show up for as many searches as possible. Maximize clicks gets as many web visits as possible, but not necessarily conversions, so it's good if you just want a lot of people to see what you have to offer. |
| You want to increase conversions | Enhanced CPC or Maximize Conversions | Enhanced CPC is actually a hybrid automated bid strategy where you set the max bid, but Google helps out by increasing bids for searches it thinks are likely to convert. Maximize conversions by comparison will just attempt to get you as many conversions as possible while spending your entire budget. It automatically sets bids for you, so use enhanced CPC if you want more control over the max bid you're willing to spend. |
| You want more conversions within a particular CPA | Target CPA | Target cost per acquisition (CPA) will get you as many conversions as possible within your desired CPA (within reason). Don't set the target too low, or you might miss out on conversions. Also, Google will recommend a CPA based on your account historical metrics. |
| You want to meet a target return on ad spend | Target ROAS | If you're passing in revenue data, then ROAS is the bid strategy if you have a target return on ad spend. Target Roas is the average conversion value you want to get for every dollar spent on ads. |
Google Ads automated creative
While we still have the option to manually build our ads, automated creative takes the same tack as automated bidding - it uses Google's machine learning to figure out the best creative to show to each searcher.
Automated creative is based on the philosophy of advertising to each specific user, versus advertising to averages. As such, Google's AI is likely to be superior to your abilities to craft creative, but if you ever want to go mano y mano then you can always run an experiment with your own standard creative against it and see who ends up on top!
There are 2 main types of automated creative tools that we can employ on the search network
Responsive search ads (RSA)
Dynamic search ads (DSA)
RSA and DSA can be a bit confusing when first starting out, because they basically sound the same, but in fact are very different automated creative tools.
Automated creative: Responsive search ads (RSA)
Responsive search are the newest addition to the machine learning toolset.
With RSA you feed Google headlines and descriptions and it will automatically assemble the creative on the fly for each auction and best tailored to each searcher.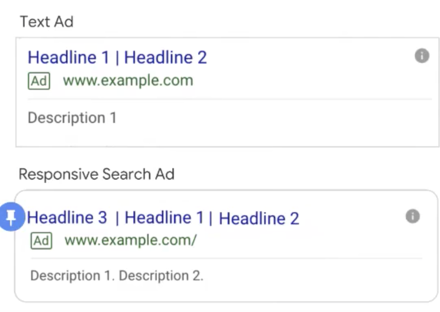 RSA creative best practices
You can provide up to 15 headlines and 4 descriptions for a single ad - make sure to provide as many of these inputs for Google to select from as possible, and ideally all of them
Creative you're targeting should match the keyword you're targeting
Avoid redundancy. Go for more "revolutionary" message differences than "evolutionary" differences. Don't just randomly brainstorm the same concept said slightly differently.
Have a messaging strategy: Think through your lines with different permutations and make sure that different elements & value propositions are incorporated
Use the pinnning feature. Pin essential phrases to headline position 1 or 2. Since headlines can be assembled in any order, try to imagine different permutations and realize which content is essential to go first.
Once you give Google the inputs it will test and figure out which combinations are best.
In addition Google has released a new tool with RSA called ad strength which gives you instant feedback on the quality of your ads, which is visible to you as you create thea ad.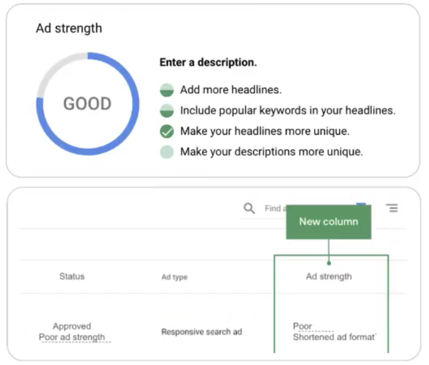 When to use RSA
Usually when you want to make sure you're getting the most out of your existing campaigns.
For example, I have a client that already has years of experience and strong quality scores. To take his account to the next level I am implementing RSA to squeeze even more performance out of his already good performing ads.
That said, every account is different. I recommend testing out RSA against standard expanded search ads to see how it works for you. But in general, from a performance perspective, you should expect to get a 10% lift on average versus regular search ads.
Automated creative: Dynamic search ads (DSA)
By contrast, with DSA, when a user searches, Google will scan your site and match their query to the content on your site. The ads then are automatically generated with a custom headline that will automatically direct users to the relevant landing page on your site.
So DSA is both a creative solution, but also a targeting solution in terms of finding new users.
DSA Tips
Pair with manual keywords to make sure you're covering all possibilities
Make sure to check the search terms report to make sure you're showing up for correct terms
Exclude pages that you don't want to show up for but try to maximize coverage with at least 75% coverage of your site.
Pair DSA with smart bidding
When you see a keyword doing well from your DSA campaign, you can break that keyword off into an exact match ad group to have even more control on your winners
When to use DSA
Large inventory ecommerce sites or fast growing sites that have new inventory. However, it's not recommended for sites that have inventory that rapidly changes, such as daily deal sites.
When you want to make sure that all opportunities are being captured on all pages beyond what you're using with manual keyword targeting.
When you're just starting out and don't know what to target DSA is your best friend as it can help you get up and running quickly.
Google's internal data is showing a 29% uplift in conversions with a 10% reduction in CPA on average, so it's certainly something to test into for any account.
Additional automated campaign options
Other automated campaigns available to you include:
| Campaign type | Description | Ideal for |
| --- | --- | --- |
| Smart shopping | A fully automated shopping campaign solution. This is like standard shopping campaigns but more simplified and effective, and deploys against the entire Google network. Provide your existing shopping feed and Google will use machine learning to show assets across all their networks, including YouTube, display, Gmail, and search. Smart shopping campaigns have a 20% increase in conversion value versus standard shopping campaigns. | Retail & Ecommerce |
| Universal App | One of the first automated campaign type, designed to drive app downloads at scale across multiple networks. Similar to RSA, input creative assets and Google will assemble the best creative for the searcher. Choose between app install volume goals, or in app desired events. | App companies |
| Local | Designed to drive local search visits across the entire Google network, including Search, YouTube, Display, and Maps. | Brick and mortar, retail, restaurants |
The bright side
I'd like to leave on a positive note.
Yes, doom is likely in our future, but it won't be for a while hopefully, so don't stress too much.
In the meantime, we can make AI work for us, before we start working for AI.
I hope you've gotten a better understanding of the automated bidding and creative strategies available to us in Google Ads at this point in time to save time and better scale your campaigns.
Curious what you think? Do you agree on my prophecies regarding humanity's future? And have you been getting good results from automated bid & creative strategies? Let me know in the comments below.